Video resources and tools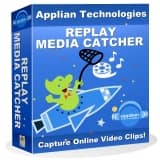 Replay Media Catcher
More info
Replay Media Catcher is the best streaming video and audio/MP3 downloader on the planet, here's what you'll be able to do:
Download millions of Online Videos.
Capture streaming MP3 files.
Automatically name and tag songs and video files.
Download from more sites than any other solution.
Extract MP3 tracks from FLV video files.
Be safe: No Spyware. No Viruses. 100% Guaranteed.